Kidd Kenn Is Letting The Music Speak For Itself
Chicago's Got A New Kidd In Town
He's only 15 years old, but it It didn't take long to realize Kidd Kenn has it all figured it out. While getting to know him it was easy to mistake his humility for shyness, but as the conversation continued the more appreciable his energy became. Kenn has the type of aura that when felt you get the idea, that maybe he's been here before in a past life. Kidd Kenn is a rapper, yes, but if he wasn't, or if he wanted to be something else, there's no doubt that he'd be one of the best to do it; whatever it may be. Kidd Kenn is blessed with the power to wield his truth like a blunt object, and he's more than comfortable beating you over the head with it to get your attention. Luckily for Kenn he has the undeniable talent to back it up, and honestly, it's about time for the hip hop industry to pay their respects to an openly gay rapper.
"The message I want to spread with my music is 'to be yourself, and don't hide nothing.'"
It hasn't even been two years since Kidd Kenn started rapping. After making his debut this past April, Kenn's bold, witty lyrics, and energetic cadences have become viral feeds on social media. Kenn's on the fast track to taking Chicago by storm and he and his team F1MG (Family 1st Music Group) have been doing so quite well, all with no help from a label or even the tease of a project. It feels like Kenn has his pulse on the industry right now. He's been giving out well timed remixes left and right and each one easily gives the originator a run for their money.
Upon listening to Kidd Kenn's remix to FBG Duck's Slide for the first time, don't be alarmed, you may feel your jaw touch the floor before the end of the song. Throughout the track Kenn keeps the beat jumping from line to line, each bar balancing brute honesty with flamboyant and explicit word play. He sounds like he's been rapping his whole life, as if making music is more of a reaction as opposed to a process. The remix to Slide was a hit and although he thought people would think it was hilarious to hear a "gay" version of a popular drill song, Kenn's indisputable talent for rhyming is far from a parody. In the beginning Kid Kenn's brand of music was more tame than what you hear now, but "I just woke up one day and I didn't care what anybody was gonna say. I was gonna say what I wanted to say."
He's been receiving a warm welcome from a diverse collection fans and artists alike, and Kenn's showing no signs of slowing down. The notoriety is all fine and dandy, but like a lot of groundbreaking artists such as Tyler, The Creator, or Lil Uzi Vert; at first people don't have much to compare the music to and end up categorizing it with a certain style or genre that doesn't reflect the artist's actual intentions. In Kenn's eyes the term "drill" doesn't reflect his brand accurately at all, "I think it's easy for people to label me as a drill rapper because I'm from Chicago but that's not who I am as an artist. I'm just a regular artist, a regular rapper, I just make music."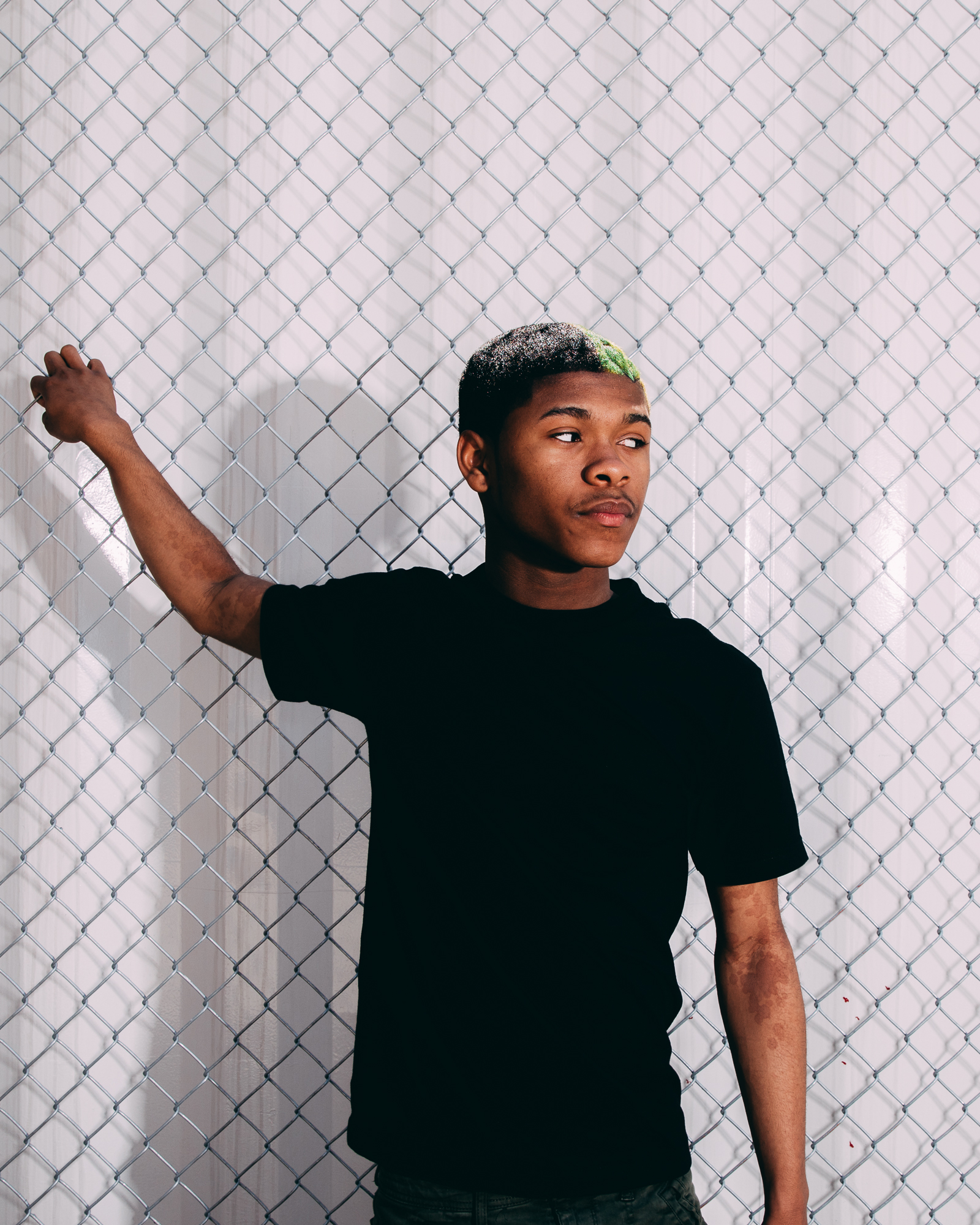 "Don't worry about what other people are going to think because their opinions don't matter."
The best part about Kidd Kenn's surmounting rise to fame is watching him control the narrative through his music. Kenn's raps aren't all punchlines and shock value. Through the grace of tracks like his Get Up 10 remix, Kenn's been shedding light on some of the struggles he has faced being an openly gay teenager. Heartfelt lines like, "They gave a nigga two options, rapping or lose. See I couldn't even go to school cause' I fighting the dudes. Cause' they was teasin' the faggots, and that shit wasn't cool. Saying we gon' go to hell, how these niggas so rude." It's evident that Kenn is not afraid to tell his story how he feels it needs to be told. And rightfully so as Kidd Kenn aspires to be an example to future up and coming rappers for years to come. "The message I want to spread with my music is 'to be yourself, and don't hide nothing.' Don't worry about what other people are going to think because their opinions don't matter."
Within a world of music where being an "openly gay rapper" never fails to be some sort of negative connotation, 15 year old lyricist Kidd Kenn is building a platform free of lies and most of all, expectations. The hip hop community has always been a platform for artists to express the frustrations of the oppressed and disenfranchised people in society, and Chicago's east side native Kidd Kenn is of no exception. Going forward expect to see Kidd Kenn a hell of a lot more because he's just getting started.