Curtis Roach Is Buzzing Off 'Highly Caffeinated'
Chicago's music scene holds home to a large number of talented artists. One of the great aspects of the music community is that inspiration continuously circulates between artists, locally and beyond. It's certain icons like Chicago Superstars Kanye West and Chance the Rapper that continuously inspire others to put their hearts into the music they create. One of the young artists that these two Chicago stars have inspired is 18 year old rapper Curtis Roach of Detroit Michigan. As a young and driven artist, he has already released projects that display his own nostalgic sound. A couple months after his latest project Highly Caffeinated (released late December 2017), Curtis aims to not only carry the momentum he gained from his 3rd project, but build from that momentum in 2018.
"I feel like I'm more than just a rapper… I'm versatile."
Music has always been relevant in Curtis' life. His family has a background in music, specifically his grandmother, who was nominated for a Grammy in the 60's. Step outside of his home and you find the city of Detroit. Growing up in this dynamic, musically inclined environment had a large impact on his success and an even larger impact on the lion-hearted mentality with which he approaches his music. "Detroit inspires me to bring it with all I got and never half ass it. I think that the whole spirit of Detroit is really just go hard or go home." Staying hungry to accomplish his aspirations is an attribute that will lead Curtis' to success down the road.
Curtis' smile illuminates the room when asked what invokes his music, pure love for his craft was written all over his face. For Curtis, it's the certain feelings that hit him when listening to a track or project. "Hip Hop that kind of roots back into that dope, that gives you a nice... comfortable feeling inside, is always welcoming to me." It's that extra shot of espresso type of feeling that energizes Curtis to impact his audience the way his idols have done for him.
That energy Curtis embraces can be felt on Highly Caffeinated. The 13 track project embraces his nostalgic and optimistic rapping style, implementing catchy and light sounds over smooth vocals on tracks like "Frida". The name of the project perfectly fits the process Curtis went through putting it together. When he started drinking coffee it wasn't the taste that got Curtis hooked, but the specific vibe of the environment that he felt from being in a coffee shop. Bustling yet quiet, aroma filled, sipping on coffee while writing raps. It was an environment he felt comfortable creating in.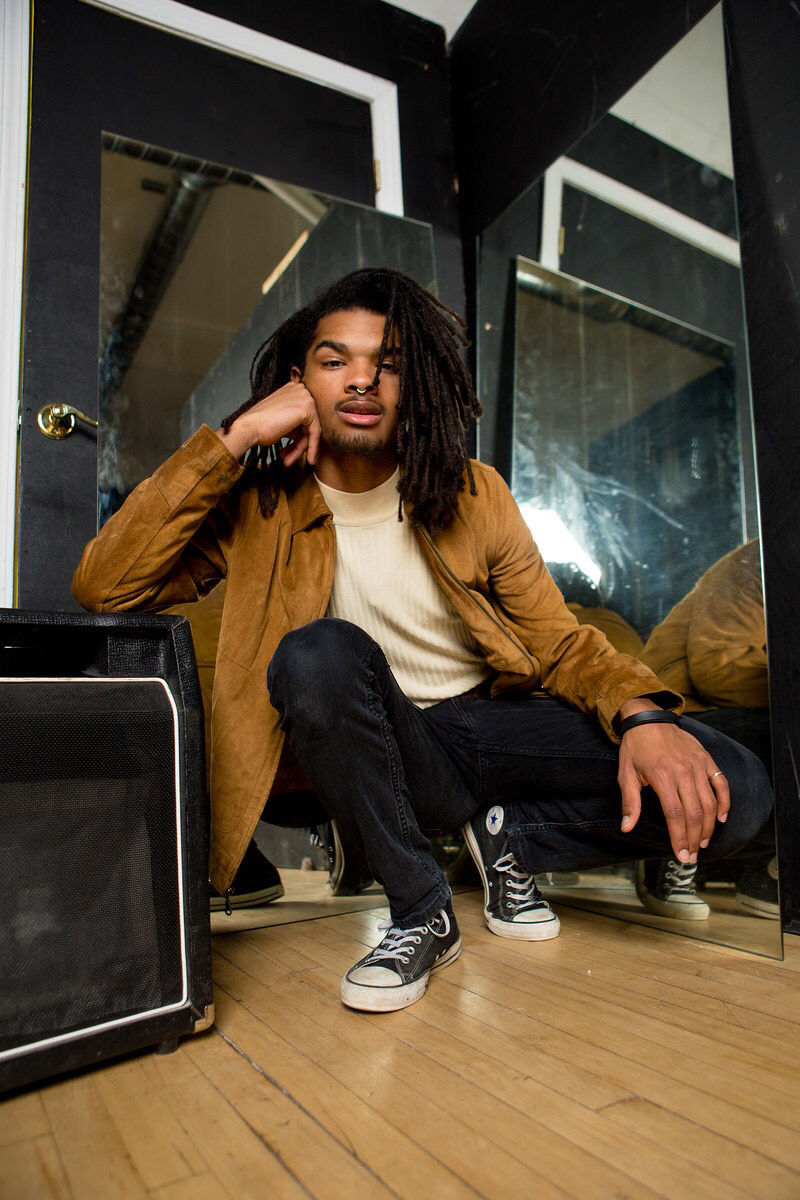 "Detroit inspires me to bring it with all I got and never half ass it. I think that the whole spirit of Detroit is really just go hard or go home"
Stepping out of the café scene, coffee was also present in the studio. Logging in late hours and continuously working to perfect the project the exact way he wanted it to be required patience and discipline. Like a freshly brewed cup of coffee needs to be cooled down so you can enjoy the comfortably warm beverage and sip away, it took a bit of waiting to get Highly Caffeinated just right. And, of course, something had to keep them up during late nights in the studio. The patience that Curtis had during the process of finishing Highly Caffeinated is largely a result of personal growth. At 16, he put out his first mixtape The Avenue and explained that his focus was to be lyrically strong. On his 2nd mixtape Smile Anyways, he said his story telling skills improved immensely. Now transitioning to his 3rd mixtape, Curtis just wanted to be honest with himself and the content he was creating. The honesty that was expressed in the project helped Curtis' songwriting develop to an even deeper level.
Each tape that he released has helped hone and define his skills and style as an artist. Highly Caffeinated is surely some of his best material. But Curtis does not plan to slow down in 2018, with or without the help of caffeine. One of his goals is to explore new sounds. "I feel like I'm more than just a rapper… I'm versatile." The bold attitude that the Detroit native brings to the music scene is something truly special. Curtis Roach is a neighboring artist that you'll want to keep your attention on, with new material to come within the first half of 2018. Until then, give Highly Caffeinated a listen, sip on some coffee and embrace that café feel.